Report
Unmatched Excel-based, self-service reporting experience for ERPs.
Let your finance & operational departments own their work and take back their time.
Fast data extraction & insights
Our proprietary Smart Refresh engine is optimized for fast API extractions and in-memory caching, online or offline. It's all transparently done!
GL, Budget, Project or any data
Simple and efficient features specially designed to enhance the experience of creating calculations and reporting on General Ledger, Budget, and Project data.
Create multi-feed queries with data-validated, parameter or formula-based filters for a fully interactive reporting experience.
Excel-like, Accelerator Functions
Our Accelerator functions are specially designed to work with your ERP. They're discoverable, support Intelligence. They will save you hours of work and make report creation feel like a breeze.
Design your multi-tab statements the way you need: pixel-perfect, with cell values, supporting Notes, floating graphs. Zero limitations!
Multiple companies, currencies, different tenants, ERPs . Velixo can consolidate it all..
Learn more
Why Excel is the best tool for the job!
80% of businesses who tried alternatives always come back to Excel anyway!
Zero learning curve
If you know how to Excel, you know how to Velixo!
Up to speed in minutes, not days
Almost no training required. Efficient and simple.
No other platform dependency
No extra license or hidden fee, only Excel (Desktop or Online).
No programming language to learn
It's just Velixo and Excel-goodness.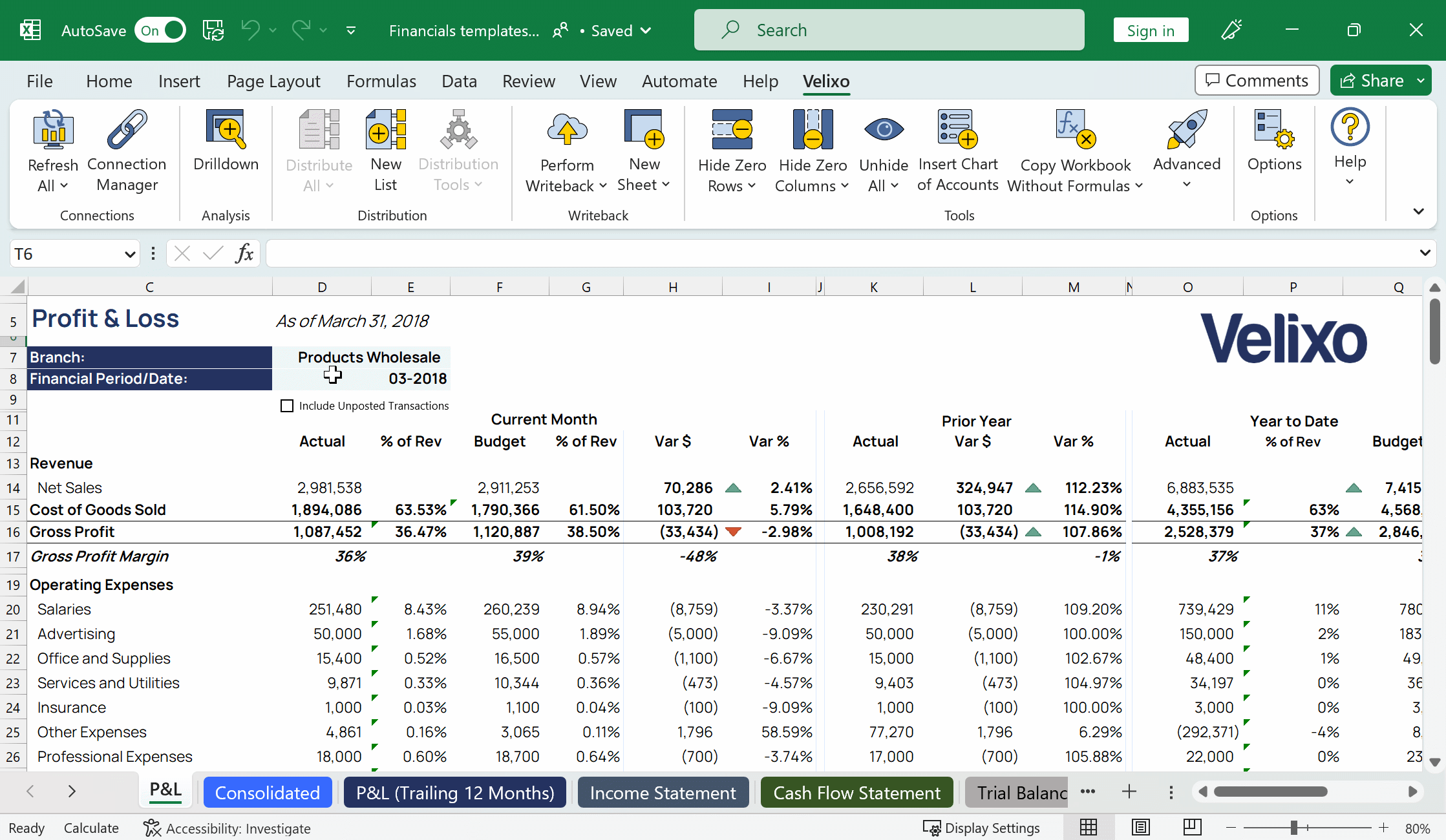 Analyze
Details at your fingertips with smart ERP exploration and interactions.
We give you the tools to get to the bottom of it and jump back to your ERP if needed.
See the underlying transactions that make up the numbers, by simply right clicking a cell, even on a calculation.
Do you need to edit a number or review notes, details, in your ERP? Simply click our Smart drilldown links to open the original documents in your ERP.
Stay in Excel for further analysis
80% of data analysis occurs in Excel. Good thing, you're already there!
Learn more
Budget & Plan
Efficient budgeting & planning features for all your scenarios.
Create your budgeting & forecasting scenarios in your ERP with confidence from Excel.
Budget & Plan without limits
Create powerful GL or budgeting templates, and post entries without leaving Excel, thanks to our optimized templates and Writeback features.
Repeatable budgeting on always up-to-date data
Budget your way, using any input or distribution method, on always up-to-date financial data. Post data back to your ERP and review in seconds.
Efficient Project Forecasting
Powerful and flexible templates and functions optimized for Project forecasting scenarios – extending often limited ERP forecasting options.
Learn more
Push
Change the game by pushing entries to your ERP, in bulk.
Automate manual data entry, all from within Excel, alongside your reporting and forms.
Automatically-generated Push forms in Excel, based on extracted input scenarios from your ERP.
Data is pushed in bulk to your ERP in a Pending state, then approve the inputs in your ERP. This can be used for Journal Transactions, Budget allocations, Project Forecasting or Bills even if coming from an external source.
Automate manual input processes
Automate inputs from data that already lives in Excel or can easily be retrieved, or generated in Excel.
Learn more
Achieve significant outcomes
Save a tremendous amount of time and effort, and reach business outcomes faster
Make key decisions faster
Save on labor costs, on all fronts
Become more efficient
Govern & Collaborate
Because entreprise governance must be at the heart of any business.
Native ERP security, coupled with cloud centralization and collaboration gives you complete peace of mind.
Single-Sign-On and ERP system authentication ensure nobody else gets access to your corporate data.
Secure data transfers and data protection.
Further secure, store and centralize your assets with a cross-department repository, using Microsoft 365 SharePoint and OneDrive.
Unlike others, Velixo is fully supported on Windows or Mac and also Online, as a modern Microsoft 365 Store add-on.
Velixo's simple, upgradable subscription plans let you focus on work. Velixo is a fully scalable solution that will follow you wherever you go.
Constantly refined & Auto-updated
Velixo auto-updater ensures that you always benefit from the latest enhancements, which we often release.
Learn more
Distribute & Automate
Lead the pack and turn your organization into a modern powerhouse.
Share your good work, create amazing, automated workflows.
Trigger-based automations
Create automations based on triggers or alerts, and automate your policies, using Velixo and Microsoft Power Automate.
Automatic report distribution
Automatically export and email multiple reports in one click. Report distribution is customizable so you can include different tabs and dynamically filter data for a given recipient.
Embed and collaborate faster
As a native Excel Desktop and Online add-in, we are fully integrated to the Microsoft 365 and Power platforms, and you can easily embed your Excel reports in Word, PowerPoint or Teams.
Learn more
Get a Head Start
Start from somewhere, get new ideas with our productized Templates.
Accelerate your time-to-value with Velixo Templates.
Profit & Loss
Balance Sheet
Trial Balance
Cash Flow statements
Bank and Expense
Asset re-evaluation
Multi-company statements
Local and reporting currency statements
Currency Translation auditing
Inter-company control reports
Financial Close Management
Account reconciliations
Bank reconciliations
Intercompany management
Eliminations
Strategic Planning
Cash Flow Planning
Scenario Analysis
Expense & Revenue Planning
Project reporting
Project forecasting
Consumption & cost forecasting
Accounts receivable aging
Accounts payable aging
Sales
Purchases
Inventory
Learn more
Velixo Newsletter
Subscribe to our newsletter to receive news and announcements.